Blue Chips:
Melani Nanai (BLU) Outside Back – The crowd favourite returns to the Blues starting lineup on the right wing against the crusaders this week. Not only is Nanai one of the most exciting players to take to the field in Super Rugby but he is an absolute fantasy god. When he plays that is!!! Despite his abundance of talent, he has always seemed to struggle for a starting spot when many of us (Shoutout: @GetNanaiOn) believe he should be starting no matter what, whether it be wing or fullback.
Last year he finished on an average of 31.6 points after appearing in 14 games throughout the season. I don't have the stats but I'm pretty sure he came off the bench for at least half of those. In 2018, Nanai has made 6 appearances, playing 264 minutes out of a possible 480 minutes (80 x 6). He has an average of 26.5 points for the season including those games he came off the bench or went off injured. In the two games he has started and played the entire 80 minutes, he scored 48 and 53 points without any tries or try assists. That puts his average at 50!!! Lets look at the stats in those games to see his true value; against the Chiefs in round 3 he made 11 runs for 178m, 4 tacklebusts, 2 offloads and a linebreak & against the Lions in round 4 he made 11 runs for 159m, 7 tackelbusts, 1 offload, 2 ineffective offloads and a linebreak. Man can run!!
Embed from Getty Images
Scott Higginbotham (RED) Backrower – The Reds captain has had a hard go of it in 2018. Red carded 10 minutes into game one saw him miss the next 5 weeks, then returning off the bench due to the man-flu he managed to get injured and has been out for another few weeks!! He is back behind the reigns starting at eighth man this week and hoping to steer his young team through a tough match up against the Hurricanes. Talking stats, despite getting injured in his last game against the Brumbies in round 8, he played 58 minutes and had earn't 42 points for his efforts. These promising efforts included 6 carries for 38m, 4 tackle busts, 3 offloads, a line break, 2 line breaks created 8 tackles and 2 lineout takes. In 2017, Higgers had the 4th highest average points for backrowers of 36.1 from 13 games played. For mine he makes for a particularly good fantasy backrower because he knows how to find the try line; he is the highest try-scoring forward in Super Rugby history with 35 (I need to confirm this number) odd tries.
Sell, Sell, Sell:
Embed from Getty Images
Damian Willemse (STO) Flyhalf – It is with a heavy heart that we put young Damian into the sell section of the stock market as for mine he has been probably the most exciting player to watch in super rugby 2018. This kid has some future ahead of him!! He has started 10 of the 11 games the Stormers have played so far this season and has been absolutely incredible. He is currently on 42.7 average points and has had performances over 50 points including a 78 pointer, which I believe is the highest of any flyhalf this season (although Richie Mo'unga was close last week with 74 points). He has kicked 29 goals (missed 8), has 71 carries for 685m and 39 tacklebusts!! Alas he is in the sell column because he has been called up for higher duties and will represent the junior boks in the U20's world cup. This means he will miss the next two rounds of super rugby, (we were surprised he actually played last week) then the Stormers have two more byes to go, thus leaving only two games left for him to play this season. And those two games may be off the bench with Jean-Luc Du Plessis's timely return from injury. He had a good run but time to sell!
Sell your Moondogs!!! The Sunwolves players that have been picked in the Japanese National side (pretty much every player that is eligible) will go into a two week training camp prior to the June Internationals window. (Squad list pictured below).  As Jamie Joseph is now both the Japanese National Coach and Sunwolves coach, we do expect him to make some players available to the Sunwolves because it will be neccessary but the majority will miss out on round 15 and 16 of Super Rugby.
Brave Blossoms Squad for Training Camps:
We discussed this in further detail on the Fantasy XV Draft podcast this week (Available on Soundcloud, Itunes, Stitcher and Acast) and came up with a possible 15 (or almost 15 players) that aren't in the Brave Blossoms squad and hence should be playing for the Sunwolves.
1 – Craig Millar
2 – Jaba Bregvadze (Note – he is listed as Prop on Fox Sports Fantasy Rugby)
3 – Hencus Van Wyk / Nicolai Khatiashvili
4 – Sam Wykes
5 – Willem Britz
6 – Fetuani Lautaimi
7 – Ed Quirk
8 – Rahboni Warren Vosayco
9 – ? All 4 Sunwolves scrumhalves are in the squad. Uchida/Shigeno.
10 – Hayden Parker
11 – Semisi Masiwera
12 – Michael Little
13 – Jason Emery
14 – Hosea Saumaki
15 – Robbie Robinson
Rising Stocks:
A pair of fly halves:
Embed from Getty Images
Hayden Parker (SUN) Flyhalf – Calm down, Calm down!!! I am not lumping him in here after one good performance last week even though it was a bloody great one!! Parker scored 57 fantasy points and 36 on field points last week with a try and his absolute lazer of a boot; 5/5 conversions and 7/7 penalty goals. No, the main reason Hayden Parker is a rising stock it is very likely he will continue to start for the Sunwolves in round 14 through 16.  I'm not saying drop everyone and pick him up but he could make a great backup and chances are that he is probably available in your leagues!! If the Moondogs get smashed, at least you know he isn't going to miss the penalties.
Jean Luc-Du Plessis (STO) Flyhalf – As mentioned above, the loss of Damian Willemse is Jean-Luc's absolute gain!! Apart from looking like the guy from the Hunger Games, Jean-Luc appears to have been himself through the Hunger Games with all his injury woes. The Stormers have managed his return from injury superbly and eased him back in with increasing game time off the bench the last two weeks. Last year it was Rob Du Preez (now at the Sharks) and the year before that it was Jean-Luc Du Plessis absolutely crushing it for the Stormers. He is certainly not as exciting or explosive as Damian Willemse or as big and brutal as Rob Du Preez but he is much more of your standard South African Test fly half. He won't bring in massive point scores each week (although he's a chance against the Sunwolves) but he will score relatively well. He will certainly start the next two games for the Stormers and could well also do so for the last two fixtures of the season. Just beware that the Stormers still have two byes this season and Willemse will be back.
Hold:
Embed from Getty Images
Jason Jenkins (BUL) Lock –  This 22 year old monster, 6'7 & 122kg is an absolute fantasy weapon when he plays on the flank. He has scored 41 and 47 points when starting in the 7 Jersey and otherwise put up pretty pedestrian numbers either at lock or off the bench. He is a young player progressing perfectly through the system and will probably be in line for a Boks jersey in a couple of years, God the South African's don't have any shortage of good Locks. Some of you may have picked him up as a relatively unknown quantity to most leagues for his numbers at Flank but are now in the conundrum of whether to drop him or not. With Lodewyk de Jager's season ending injury (check out The Casualty Ward for all Super Rugby injury information), Jenkins will very likely play the rest of the season starting at lock. The fact that he will be starting every week (usually he is played off the bench behind De Jager & RG Snyman) we believe warrants enough to hold him and see how he goes. Just because he isn't in the 7 Jersey doesn't mean he won't have a big game, we'll just have to wait and see.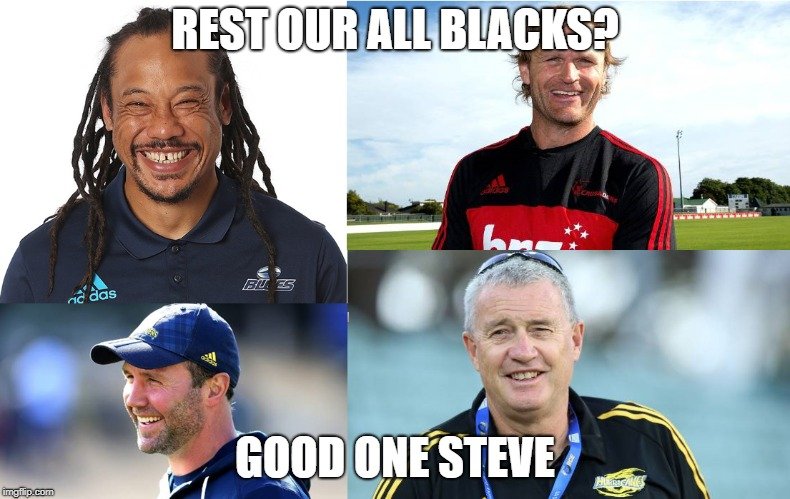 Hold your All Black's you thought were due rest weeks. Now I'm not saying that any of you were dropping your All Black's but as we were getting close to round 16, the last round before the June Internationals break, everyone was sweating on when their beloved All Black's (and fantasy god sends) were going to be rested. Turns out it isn't really necessary to rest them so if you were thinking of any possible trades to get you out of a jam (I have Reiko Ioane & Ngani Laumape who I thought were both going to be rested this week – according to the policy), just don't. Some players have still been rested this week (e.g Laumape), some really haven't had a choice; i.e. the Chiefs having to be available for a training camp this weekend and others have not. Ben Smith, Luke Whitelock, the Ioane Brothers, Beauden Barrett are all playing this weekend.
Smokeys/Keep a close eye for:
Embed from Getty Images
Tomas Cubelli (JAG) scrumhalf – Returning to the motherland after two seasons with the Brumbies and learning from the very best, (Steven Larkham & George Gregan), our sources in Argentina suggest that Tomas Cubelli is now the number one scrumhalf in Argentina. He was reinjured at the start of the year coming back from a fractured vertebrae (doesn't sound particularly nice) and was originally expected back in April but as a precautionary measure it was decided not to take him away on the 4 week tour. He has been playing with the Argentina A team the last two weeks suggesting he is fit and raring to join his team mates and the Jaguares 2018 campaign. He can be one of those fantasy halfbacks that are actually a difference maker, he makes those sniping runs and is very hungry for the try line.
Seablo Senatla (STO) Outside Back – Whilst he has only played one 80 min game in Super Rugby in 2018 against the crusaders where he scored 22 points, this ex-sevens flyer may be one of those smokeys to pull out a big score against the sunwolves this week if he sees some ball. He's definetely a one weeker with Raymond Rhule the preferred choice but if in need give him a shot. Alternatively go with the man below;
Akhito Yamada (SUN) Outside Back – This prolific try scorer knows how to beat a tackle or two and find his way to the line no matter how poorly his team is doing. In the Sunwolves first season in 2016 he was the Super Rugby leading try scorer for quite some time. He is definetely a one weeker as mentioned above he will be off with the National team duties for round 15 & 16 but like Senatla, if he gets some ball this week he could bag some meat pies and make a fantasy manager very happy for taking the punt.
Written by David Carr-Gregg
Thanks for reading. Got any ideas for us?? Get involved on the socials, we are fantasyxvdraft on twitter, facebook and instagram!